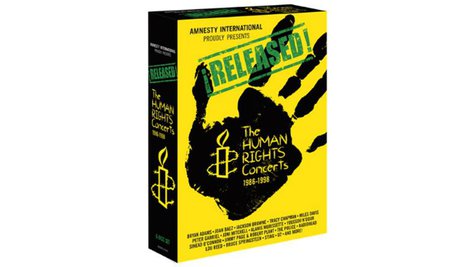 For more than two decades Amnesty International, the international human rights organization, has staged major fundraising concert events and tours featuring dozens of top rockers, from U2 and The Police to Bruce Springsteen , Peter Gabriel , Pete Townshend , Eric Clapton , Jeff Beck , Phil Collins , Jimmy Page and Robert Plant to Joni Mitchell , Radiohead and even jazz great Miles Davis .
Now a new, massive box set containing six DVDs and two CDs is due, commemorating those shows and capturing many of their high points.
¡RELEASED! -- Human Rights Concerts 1986-1998 includes four complete concert films, each capturing a major Amnesty tour or event, from the five-and-a-half-hour 1986 show on the Conspiracy of Hope tour -- which includes U2, The Police, Peter Gabriel, Joni Mitchell and Lou Reed -- to 1998's two-and-a-half-hour The Struggle Continues -- which includes Bruce Springsteen, Jimmy Page and Robert Plant, Gabriel and Radiohead among others.
In addition to the four concert films, many of which have never been released before on video, the set includes a documentary about the concert series with new interviews with Bruce Springsteen, Sting, Bono, Peter Gabriel and Pete Townshend as well as additional new and archival interviews with various artists; a 20-minute animated film about human rights with a score by Talking Heads frontman David Byrne and Devo 's Danny Elfman and Mark Mothersbaugh , among others; a 40-page book, and more.
As a companion to the four DVDs, the set includes a two-CD package with 30 highlights from the video performances. In addition the set will contain two performances by Townshend and Sting from the Secret Policeman's Ball series of concerts that inspired the Human Rights Concerts as well as 13 new performances given for Amnesty in the last ten years by the likes of Green Day , Coldplay , Mumford & Sons , Jeff Beck, Ozzy Osbourne , Joe Perry of Aerosmith and Bono , among others.
The set is due November 5, with net proceeds benefiting Amnesty International and to celebrate the release, special events are planned in Los Angeles and New York.
On Sunday November 3, The American Cinematheque in L.A. will present the world premieres of ¡RELEASED! , a 95-minute film of highlights from the concerts, and Light a Candle! , the 40-minute documentary about the history of the series that is included in the box. The screening will take place at the Aero Theatre in Santa Monica at 3:00 p.m. PT. Police guitarist Andy Summers is expected to attend.
On Tuesday December 10, at 7 p.m. ET the Museum of Modern Art in Manhattan will present the New York premieres of the two films. The event will take place on International Human Rights Day, this year commemorating the 65th anniversary of the signing of the Universal Declaration of Human Rights.
Copyright 2013 ABC News Radio