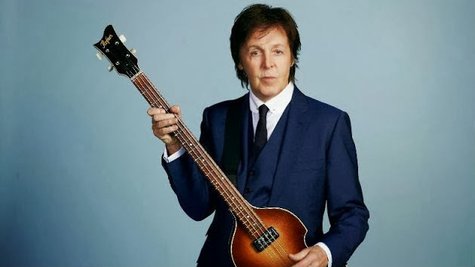 Paul McCartney paid a visit to NBC's Late Night with Jimmy Fallon Monday, but the former Beatle didn't just chat with the host and perform a few songs -- he also took part in a taped comedy segment.
The segment featured McCartney and Fallon accidentally bumping into each other in a hallway and discovering that somehow their accents have become switched as a result of the collision. Fallon spoke with an English accent and Sir Paul spoke with an American accent, or at least tried to do so for the bit. McCartney eventually becomes tired of hearing Fallon talk with a British accent and "head butts" the host to get the accents back where they belong.
McCartney has been touring on and off since May. During his interview, he explained to Fallon how he plans a set list. "I just imagine I'm going to the show -- what would I like to hear him do. So I start there because, you know, people pay a lot of money to come to the show so I don't want to do some big, crazy set that I alone want to see." McCartney continues, "So I start with those and then I work down to other songs I think might be interesting, new, and then finally songs I wanna do."
McCartney also talked about using four different producers on his new album, New . McCartney told Fallon he was a bit worried about having so many different styles on the album "but then I thought back to a lot of Beatle albums where there's crazy variety" and realized it would be "okay"
Fallon told a story about attending a Rolling Stones concert at the Barclay's Center in Brooklyn and finding himself sitting next to Paul McCartney. Fallon recalled he was torn when Mick Jagger started singing "I Wanna Be Your Man" which Paul and John Lennon wrote. Fallon recalled, "And so I'm going, 'What do I look at? Do I look at Mick Jagger singing the Beatles or do I look at a Beatle listening...It was a pickle, it was a conundrum."
McCartney performed three songs during the show: his single, "New," the new tune "Save Us," and "Lady Madonna."
New , McCartney's first album of original material since 2007, arrives October 15.
Copyright 2013 ABC News Radio