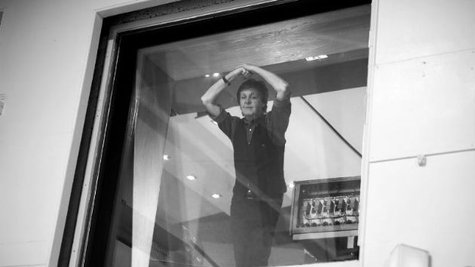 Danish audio-equipment manufacturer Bang & Olufsen will present a live online chat with Paul McCartney that will coincide with release of the rock legend's latest album, NEW . The event, will take place next Tuesday, October 15, at Bang-Olufsen.com/McCartney starting at 9 a.m. ET.
Sir Paul plans to discuss the writing and recording of NEW , including his experience collaborating with the album's four producers Mark Ronson , Ethan Johns , Paul Epworth and Giles Martin . Fans can submit questions for the ex- Beatles star via Twitter by using the hashtag #askmccartney.
The conversation will mark the first installment of a new online series launched by Bang & Olufsen called "The Living Room Tour." The project will feature an assortment artists candidly sharing their thoughts on their work and various other music-related topics.
"We are excited to work with Paul McCartney -- the world's most iconic musician," says Bang & Olufsen CEO Tue Mantoni . "Bang & Olufsen and Paul McCartney share an immense passion for great sound and we believe our brand is the perfect platform to convey his true intentions and emotions."
Copyright 2013 ABC News Radio