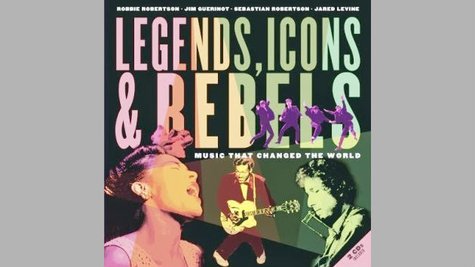 Legends, Icons & Rebels: Music That Changed the World , the new book co-written by The Band 's Robbie Robertson to help introduce children to some of the world's most influential music artists, hit stores on Tuesday. The publication includes profiles of such stars as The Beatles , Bob Dylan , Elvis Presley , Chuck Berry , The Beach Boys , Johnny Cash and many others.

Robertson co-wrote Legends, Icons & Rebels with his son, Sebastian , and his respective current and former managers, Jim Guerinot and Jared Levine . The book comes packaged with two CDs that include 27 classic recordings -- one by each of the music greats profiled. The 128-page volume is available for purchase as a hardcover and an ebook.
Robbie is scheduled to make a couple of TV appearances to promote Legends, Icons & Rebels . This weekend he'll be a guest on CBS Saturday Morning , which airs at 7 p.m. ET, and he'll also appear on an upcoming episode of PBS' Tavis Smiley .
In addition, Robertson and his three co-authors all will take part in a discussion and signing event at a Barnes & Noble store on Grove Drive in Los Angeles on Wednesday, October 16, at 7 p.m. PT.
To find out more about Legends, Icons & Rebels , visit TundraBooks.com .
Copyright 2013 ABC News Radio