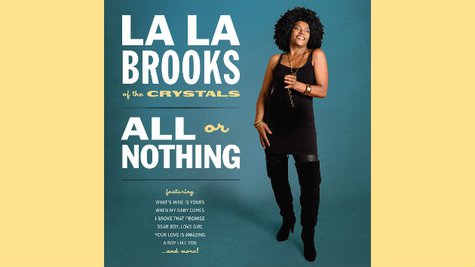 Dolores "La La" Brooks is best known for being the lead singer of the Phil Spector -produced girl group The Crystals . Now, more than 50 years after her voice was first heard on the classic 1963 hits "Da Doo Ron Ron" and "Then He Kissed Me," Brooks is set to release her very first solo album, All or Nothing .
The 14-track collection, which hits stores this Tuesday, features mostly original songs, as well as covers of tunes by The Small Faces , Mink DeVille and Ohio Players precursor group Ohio Untouchables . The album was produced by Mick Collins , singer/guitarist for acclaimed Detroit garage-soul band The Dirtbombs .
"The lesson I've learned is to never give up on your dreams no matter what they may be," says La La in a statement, "and that you're never too old to have your best dreams come true."
She also notes that she wanted to showcase all of the different aspects of her life and her musical tastes on the album.
"I first searched for the child who's still within me, with the young voice of the 1960s," she explains. "Then as we got deeper into recording, I found the voice that came from my struggles, which is the woman's voice as I grew up. Going even deeper, I found a hard rock sound which represents the strength that I have today."
The first single from All or Nothing is titled "What's Mine Is Yours," a tune that boasts the vintage sound of Brooks' Crystals recordings. The track is streaming now exclusively at RollingStone.com .
Here is the track list for All or Nothing :
"When My Baby Comes"
"All or Nothing"
"A Boy Like You"
"Sun Is Shining"
"I Broke That Promise"
"Crazy for You"
"To Love Somebody"
"Your Love Is Amazing"
"What's Mine Is Yours"
"Two Wrongs"
"Mind Made Up"
"Dear Boy, Love Girl"
"Two Is Company"
"You Gave Me Love"
Copyright 2013 ABC News Radio