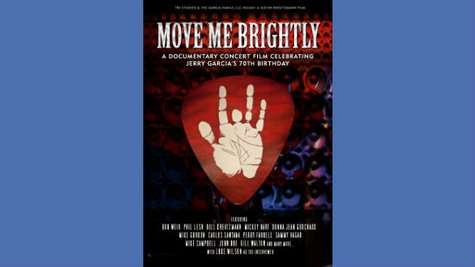 A new video release featuring highlights from a star-studded August 2012 event commemorating what would have been Grateful Dead frontman Jerry Garcia 's 70th birthday will hit stores on October 29. Move Me Brightly: Celebrating Jerry Garcia's 70th Birthday combines documentary segments with footage from a tribute concert held at Dead singer/guitarist Bob Weir 's TRI Studios in San Rafael, California.
Among the many musicians who are interviewed in the film are Garcia's Dead band mates Weir, Phil Lesh , Bill Kreutzmann , Mickey Hart and Donna Jean Godchaux . Also appearing are such stars as Carlos Santana , Sammy Hagar , Tom Petty & the Heartbreakers guitarist Mike Campbell and Jane's Addiction members Perry Farrell and Stephen Perkins . The interviews are conducted by actor Luke Wilson .
Meanwhile, the concert portion of Move Me Brightly features renditions of various classic Grateful Dead tunes played by an eclectic lineup of artists, including Phish 's Mike Gordon , members of the alternative rock acts The Hold Steady and Vampire Weekend , and Joe Russo and Jeff Chimenti from the Dead spinoff group Furthur . Among the songs that were performed are "Terrapin Station," "Shakedown Street," and "Friend of the Devil."
Move Me Brightly was directed by founding Grateful Dead drummer Bill Kreutzmann's son, Justin . The flick will be available as DVD, Blu-ray and digital video.
Here's the track list of songs featured in Move Me Brightly :
"Cumberland Blues"
"Going Down the Road Feelin' Bad"
"Mission in the Rain"
"Shakedown Street"
"He's Gone"
"Eyes of the World"
"Terrapin Station"
"Days Between"
"Franklin's Tower"
"U.S. Blues"
Bonus Performances
"Friend of the Devil"
"Bird Song"/"New Speedway Boogie"
Copyright 2013 ABC News Radio