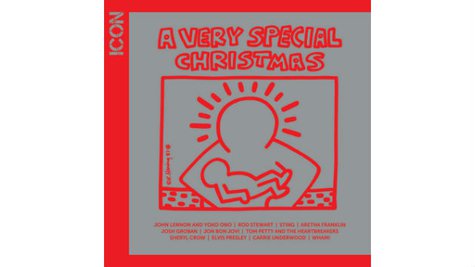 Holiday-themed tunes by John Lennon , Elvis Presley , Aretha Franklin and Rod Stewart are among the songs featured on the latest album in the A Very Special Christmas compilation series, which raises money for the Special Olympics.
A Very Special Christmas: Icon will be released next Tuesday. The album includes Lennon and wife Yoko Ono 's classic "Happy Xmas (War Is Over)," Presley's immortal rendition of "Blue Christmas," the Queen of Soul's take on "Winter Wonderland" and Stewart's recent version of "Let It Snow! Let It Snow! Let It Snow!," which appeared on his 2012 album Merry Christmas, Baby .
The disc also contains songs by Sting , Jon Bon Jovi , Tom Petty and the Heartbreakers and Wham!
The A Very Special Christmas series has raised more than 116 million dollars in royalties, benefiting Special Olympics programs, since its debut in 1987.
Commenting about her and her late husband's contribution to the album, Ono says, "'Happy Xmas (War Is Over)' was our holiday wish for a more peaceful world, so I am happy it's part of A Very Special Christmas . Special Olympics shows us how a more peaceful world could work, a world in which every person is valued and given the opportunity to live as full a life as possible, with the help and encouragement of a loving community."
Here's the full track list for A Very Special Christmas: Icon :
"Happy Xmas (War Is Over)" -- John Lennon and Yoko Ono/The Plastic Ono Band with the Harlem Community Choir
"Let It Snow! Let It Snow! Let It Snow!" -- Rod Stewart
"I Saw Three Ships" -- Sting
"Winter Wonderland" -- Aretha Franklin
"It Came Upon a Midnight Clear" -- Josh Groban
"Please Come Home for Christmas" -- Jon Bon Jovi
"Christmas All Over Again" -- Tom Petty and the Heartbreakers
"Run Rudolph Run" -- Sheryl Crow
"Blue Christmas" -- Elvis Presley
"Hark! The Herald Angels Sing" -- Carrie Underwood
"Last Christmas" -- Wham!
"O Holy Night" -- Nicole Scherzinger (available on international version only)
Copyright 2013 ABC News Radio