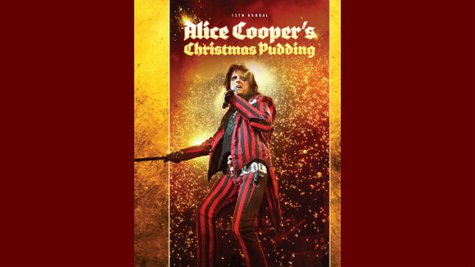 Alice Cooper has revealed the initial lineup for his 13th annual Christmas Pudding music and comedy benefit gala, which is scheduled to take place December 7 at the Comerica Theatre in Phoenix. This year's event will feature performances by all four members of KISS -- Gene Simmons , Paul Stanley , Eric Singer and Tommy Thayer -- as well as Motley Crue frontman Vince Neill and horror rocker Rob Zombie .
Serving as host for the fundraiser will be John O'Hurley of Seinfeld and Family Feud fame, while comedian Bill Engvall will deliver a standup set. Additional entertainers will be announced in the coming weeks.
Proceeds raised by the Christmas Pudding will go toward Cooper's Solid Rock Teen Center -- a Christian-based nonprofit recreational facility that provides art and music programs for at-risk young people.
"Although I have played more than 100 shows this year, Pudding is the one I look forward to most," says Cooper in a statement. "We love bringing people together for Christmas, for the sake of music and dance and the mission of Solid Rock."
In conjunction with Cooper's Christmas Pudding, the semifinals of the Proof Is in the Pudding talent search are being held this week at the Alice Cooperstown bar and restaurant in Phoenix to choose emerging musicians who will get to play at the benefit. The finals also will take place at Alice Cooperstown, on November 6 and 7.
Christmas Pudding tickets will go on sale this Friday at 10 a.m. local time and can be purchased via Ticketmaster, at the Comerica Theatre box office or by calling (602) 379-2888. Prices range from $38 to $253.
Copyright 2013 ABC News Radio