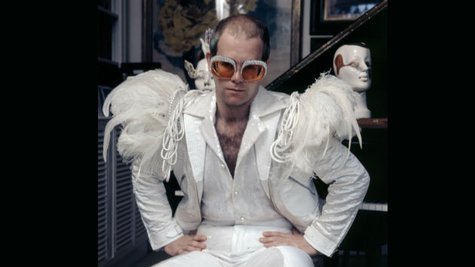 Would you describe Elton John 's singing as "extremely dull...without any feelings and precious little musical ability?" That was reportedly the opinion of a U.K. review panel in 1968 that decided which pop artists got to perform on BBC radio and TV shows.
The Daily Mail reports the scathing review of Sir Elton is revealed in a new BBC Radio 4 documentary entitled Auditioning for Auntie .
According to the report, Elton appeared before the BBC's now defunct Talent Selection Group and performed three songs he co-wrote with Bernie Taupin : "All Across the Havens," "Lady Samantha" and "Skyline Pigeon." The panel's response: "The items are not songs. Pretentious material, self-written, sung in an extremely dull fashion without any feeling and precious little musical ability. Thin, piercing voice with NO emotion. Not a tuneful voice."
A BBC producer said Elton "writes dreary songs and he sounds like a wonky singer."
Luckily for Elton, a tape recording of his audition made its way into the hands of top BBC executives, who agreed to let him perform.
Elton wasn't the only artist to feel the musical wrath of the BBC panel. The report says David Bowie auditioned in 1965 with his version of "Chim Chim Cher-ee" from the movie Mary Poppins . The Selection Group dismissed him as a "amateur-sounding vocalist who sings wrong notes and out of tune."
The Who arrived for their February 1965 audition 25 minutes late, prompting one member of the panel to remark, "Not endowed with much sense of urgency." The panel's reaction to the band: "Overall, not very original and below standard."
Two years earlier, the BBC Talent Selection Group rejected the Rolling Stones as "unsuitable for our purposes."
Copyright 2013 ABC News Radio