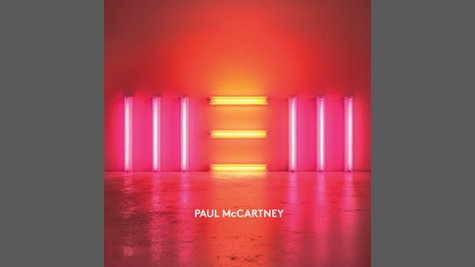 Paul McCartney adds to his long list of career milestones with his latest studio album, New , which debuted at #3 on the Billboard 200 chart after selling 67,000 copies. This marks McCartney's 19th non- Beatles album to crack the chart's top 20.
New eclipses the highest chart position of Sir Paul's previous album, Kisses on the Bottom , which reached the #5 spot, although the 2012 standards collection had a slightly more successful initial sales week: 74,000 units. McCartney's last full-length album of all-original material was 2007's Memory Almost Full , which also debuted at #3, while selling more than twice as many copies -- 161,000 -- as New did during its first week.
Other veteran artists appearing on the Billboard 200's top 10 this week include Cher and Willie Nelson . Cher's Closer to the Truth , which premiered in the #3 spot a few weeks back, moved from 11th to eighth place this week after selling 45,000 copies.
Nelson, meanwhile, debuts at #9 with his new duets album To All the Girls . The record, which notched sales of 43,000 copies, features the country legend singing with such female stars as Dolly Parton , Mavis Staples , Rosanne Cash , Sheryl Crow , Emmylou Harris and Carrie Underwood .
Copyright 2013 ABC News Radio