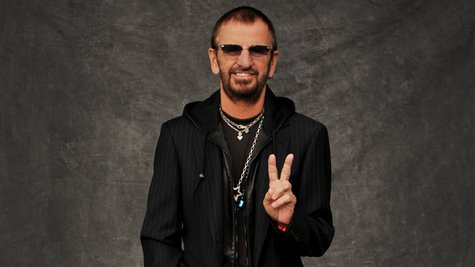 Ringo Starr says many of the photographs he shot of his Beatles' bandmates during the Fab Four's touring career came about because they "shared two rooms and one car."
"That's how you get to know each other: in the van, hour after hour. I was kind of stuck with them as models," Ringo said Wednesday at a press conference to introduce his new limited-edition photo book, Photograph.
"If you look at photographs of the Beatles, in 90 percent of them the three things we were always carrying were cigarettes, a drink and a camera," Ringo remarked.
Speaking at the ArcLight Cinemas in Hollywood, Ringo said he began taking photographs as a teen in Liverpool.
Photograph features a wide variety of previously unseen images snapped by Ringo throughout his life, along with accompanying personal recollections from the 73-year-old rock legend.
The Hollywood Reporter says Ringo remarked that he has been asked repeatedly to write an autobiography, but has always declined because "they only want eight years" covering the Beatles "and I did have a life before that and after that." Ringo says he thought the release of a photo book "was a better way to do it."
Each copy of the publication is personally signed by Ringo, is hand-numbered and has a hand-bound leather cover. The tome is a companion to an interactive ebook that was released in June via Apple's iBookstore.
Joining Ringo at the event was Nirvana and Foo Fighters ' drummer Dave Grohl and Steve Gorman , drummer for the Black Crowes .
Grohl declared that without Ringo, "we wouldn't be here. And it's nice to be here."
Grohl revealed that Ringo's solid, minimalist drumming had a direct influence on the way he played.
"When I was in Nirvana, the last thing I wanted to do was complicate the songwriting process, because Kurt [Cobain ] was a genius. I decided what I needed to do is what Ringo did in so many songs, which was just to lay it down."
Gorman said when he began playing the drums at age 17, one of the first songs he attempted was the Beatles' "Ticket to Ride." Gorman said he still plays the tune's heavy beat "at the start of sound check every day."
Copyright 2013 ABC News Radio