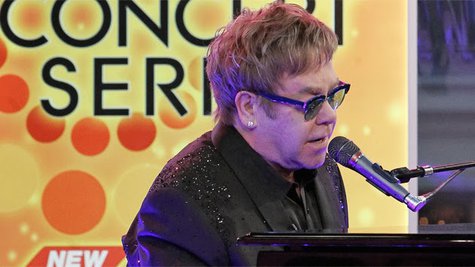 Elton John has never been shy about speaking his mind, and his latest comments about today's pop music are sure to enrage fans of one Britney Spears .
According to the British paper The Daily Mail , Elton made the comments at a gala event for his alma mater, the Royal Academy of Music in London, where he spent six years studying starting at the age of 11. Speaking to the crowd, the paper reports, Elton referred to music played on pop radio today as "garbage" and "packaged crap," adding, " Everything's too flawless now. Everything's Auto-Tuned, there's no trace of humanity. If you go and see a Britney Spears concert, you might as well stay at home and watch the video."
" Anyone can make a record in their living room or their bedroom, and it can be a very good record, but they don't have the skill to go and play it live, to hone skills," he said, adding sarcastically that it's a "shocker" that a lot of singers today don't have the chops to sing live.

The alleged inability of pop stars to deliver live has long been a complaint of Elton's: in 2004, he said any singers who lip-sync in concert "should be "shot."
At the same event, the Evening Standard reports, Elton pledged to do a series of concerts to raise the 19 million dollars the Academy needs to renovate its theater. "My heart beats with the Royal Academy," he told the crowd, adding, "I will do concerts and help you raise the money." He noted that the academy is "a place of sheer joy and exuberance... a place of meticulous artistry where futures are built."
Elton's time at the Academy will be depicted in the upcoming biopic Rocketman , which will trace the singer's career from childhood to global domination.
Copyright 2013 ABC News Radio