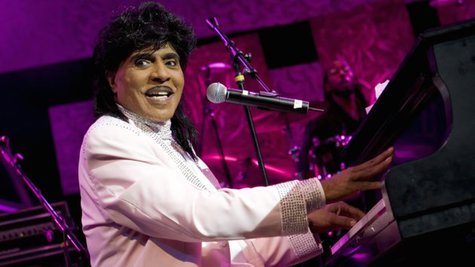 Little Richard has long been among the most energetic and flamboyant performers in the music world, but health issues apparently have forced the 80-year-old rock 'n' roll pioneer to consider calling it quits.
In a new interview with Rolling Stone , Little Richard declares, "I am done, in a sense, because I don't feel like doing anything right now."
The singer/pianist's announcement comes more than a year after his last concert appearance, a June 2012 show at the Howard Theatre in Washington, D.C., during which he complained that he was "in pain 24 hours a day" and at one point exclaimed, "I can't hardly breathe." Little Richard revealed that the cause of his pain stemmed from a broken hip he suffered in 2009. He explained that during an ensuing hip-replacement surgery, doctors weren't able to remove the broken bone.
Rolling Stone reports that, nowadays, Little Richard has been focusing on designing clothes, contributing his old stage clothes to the Smithsonian and praying for his employees and their families to be protected from an apocalypse he believes is inevitable.
As for how he feels he should be remembered, the man who gave the world such rocking rave-ups as "Tutti Frutti," "Long Tall Sally" and "Good Golly, Miss Molly" says, "I think my legacy should be that when I started in show business, there wasn't no such thing as rock 'n' roll." He adds, "When I started with 'Tutti Frutti,' that's when rock really started rocking."
Copyright 2013 ABC News Radio