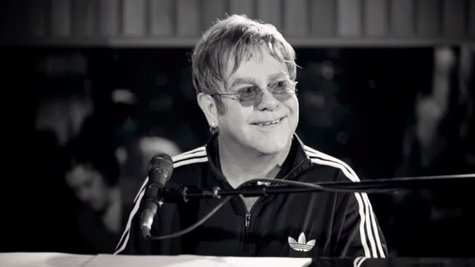 Elton John has written some of pop and rock music's most enduring tunes, but he says now, years later, he still doesn't know what some of them are actually about.
Speaking to Britian's The Telegraph , John explains that the lyrics to most of his songs were written by his longtime musical partner Bernie Taupin and, strange as it might seem, Elton's never asked him what inspired them or what they're about. "There are lyrics that are obvious and there are others that are esoteric...that I still haven't got a f***ing clue about," he admits. Elton mentions his 1970 classic "Take Me to the Pilot" as an example of this.
"The magic of the relationship is that it's odd and otherworldly -- the connection between two minds so in sync we've never had an argument about anything in 46 years, and I can tell you that on my son's life," John says of Taupin.
Has Elton ever considered writing his own lyrics, though? Well, yes, but not for public consumption. Speaking to BBC Radio 4 , John says, laughing, "I write really filthy songs and I have a few that I might put together at the end of my career while I've got about six months to live and release it, but apart from that, no." He adds, more seriously, "I've tried, but I can't, and I don't want to."
The songs on John's upcoming album The Diving Board , for which Taupin again wrote the lyrics, are full of lyrics about the past, aging and mortality. "That's Bernie, he's the tortured one," notes Elton. As for himself, these days, the star says he's never been happier.
"I'm very relaxed. I have a family, I have a partner of 20 years, I have a wonderful life, nothing could be better," he says. "It's taken a while to get here, but now that I've got it, I'm going to hang on and not f*** it up."
Copyright 2013 ABC News Radio