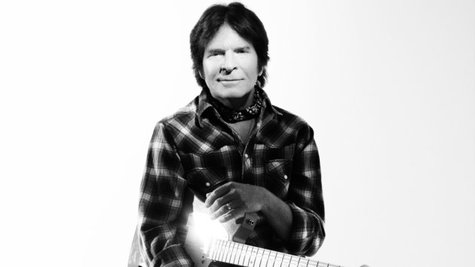 John Fogerty will visit the Grammy Museum in Los Angeles on September 26 to participate in a special interview event that will coincide with the opening of a new exhibit at the facility celebrating his phenomenal music career. During the Q&A event, which will take place at the museum's Clive Davis Theater, the former Creedence Clearwater Revival frontman will chat with Grammy Museum executive director Bob Santelli and also will field questions from the audience.
Meanwhile, the exhibition, titled "John Fogerty: Wrote a Song for Everyone," will open the same day and will contain a variety of memorabilia from throughout the famed singer/guitarist's life. Among the interesting items that will be displayed are Fogerty's "Centerfield" baseball-bat guitar; a Dobro guitar that appears on the cover of Creedence's 1969 album Green River ; a scrapbook John kept during his years with CCR; his handwritten lyrics to "Proud Mary"; his high-school yearbook and diploma; and various photos, letters, posters, awards, stage costumes and tour collectibles.
The exhibit, named after Fogerty's 2013 collaborative studio album, will remain open until January 2014.
Fogerty's next concert appearance is scheduled to take place this Saturday at the inaugural Lockn' Festival in Arrington, Virginia, where he'll sit in with veteran jam band Widespread Panic . He'll also join the Zac Brown Band on September 28 at that group's Southern Ground Music & Food Festival in Nashville. Then, on October 10 in Los Angeles, John will kick off his own solo North American tour .
Copyright 2013 ABC News Radio