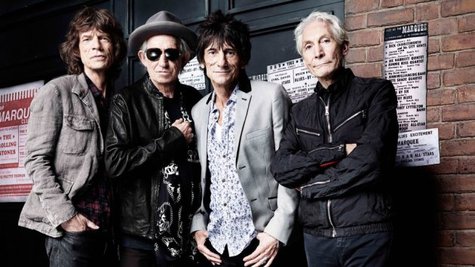 The Rolling Stones will be honored next month by the Rock and Roll Hall of Fame and Museum in Cleveland as part of the institution's 18th Annual Music Masters series. The British rock legends will be celebrated during a six-day extravaganza dubbed "It's Only Rock 'n Roll (But I Like It): The Music of The Rolling Stones" that will run from October 21 through October 26.
The event will feature interviews, movies, panel discussions and presentations about The Stones, who were inducted into the Rock and Roll Hall of Fame in 1989. In addition, a keynote lecture will be held at Cleveland's Case Western Reserve University, which co-hosts the series. The festivities will conclude on October 26 with a conference at the Rock Hall focusing on the band's immeasurable influence on rock music, and a tribute concert at PlayhouseSquare's State Theater.
Serving as the concert's music director is acclaimed drummer/producer Steve Jordan , who collaborated with Keith Richards on his two solo albums. Jordan will lead a house band featuring a variety of musicians who have toured and recorded with The Rolling Stones and/or with Richards' solo group, The X-Pensive Winos . The lineup includes founding Faces / Small Faces keyboardist Ian McLagan , backing singers Lisa Fischer and Bernard Fowler , guitarist Waddy Wachtel , bassist Willie Weeks , and keyboardist Ivan Neville .
The Rock Hall's Annual Music Masters series originally was called the American Music Masters Series, but the name was changed this year when organizers decided to honor The Stones.
"We are very excited to expand the stories we tell in the Music Masters program," says Rock Hall executive Lauren Onkey . "Rock and roll caught fire around the world, and we want to reflect that in this program. The Rolling Stones were inspired by so many great American artists in creating their own original brand of rock and roll -- it's an incredible story."
Fans who visit the museum for the Annual Music Masters series will have the opportunity to check out the expansive exhibit celebrating The Rolling Stones' 50th anniversary that opened in May. " The Rolling Stones: 50 Years of Satisfaction " is slated to run until March 2014.
For more details about The Stones' Annual Music Masters festivities, visit RockHall.com .
Copyright 2013 ABC News Radio