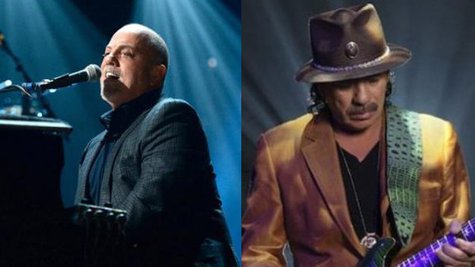 Billy Joel and Carlos Santana are among the legends who'll be spotlighted this December at the 36th Annual Kennedy Center Honors , which will tape December 8 in Washington, D.C. Before receiving their awards at the Kennedy Center Opera House that night, Joel, Santana and this year's other honorees will be welcomed at the White House by President and Mrs. Obama .
The Kennedy Center Honors are given to artists for their "lifetime contributions to American culture through the performing arts, including dance, music, theater, opera, motion pictures or television. This year's other honorees include actress Shirley MacLaine , jazz star Herbie Hancock , and opera singer Martina Arroyo .
In a statement, the chairman of the Kennedy Center said of Joel, "[His] melodies have provided the soundtrack of our lives for over four decades, making him one of pop music's most prolific and memorable singers and songwriters." As for Santana, the chairman says of the guitarist, "From his legendary performance at Woodstock to his sweep at the 2000 Grammys and beyond, [his] artistry transcends genres while entertaining millions."
If you can't make it to D.C. for the ceremony, the event will air on CBS December 29 at 9 p.m. ET/PT.
Copyright 2013 ABC News Radio