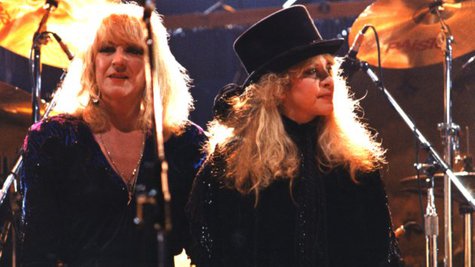 Singer and keyboard player Christine McVie left Fleetwood Mac in 1998, and as recently as last year, Stevie Nicks told Rolling Stone that the chances that Christine would rejoin the group were as likely as " an asteroid hitting the earth." But now, it appears as though Stevie and Christine are singing a different tune.

According to the BBC, in an interview on BBC Radio 4 which will air Monday, Stevie claimed that Christine will rejoin Fleetwood Mac for two shows on their European tour, which kicks off Friday, September 20 with two shows in Dublin, Ireland. That's followed by three additional shows in London.
Stevie said, "She is going to come and do a song on the second two shows. I think it will probably be 'Don't Stop.' I don't know, but she's coming to Ireland to rehearse with us." It's not clear exactly which shows Stevie was referring to.
During the same interview, Stevie spoke about the close bond she and Christine shared as women in the mostly male-dominated rock world. "Both of us in a man's world, from the very beginning, we made a pact that we would be a force of nature together. And we were," she said.
" We had a lot of power when there were two of us," Stevie added. "That wasn't really so noticeable to us because we just had it until she left. And then when she left I realized how much power we had when she was there, and how when she left she took 50 percent of the power with her… I felt powerless in many ways."
As for why Christine left Fleetwood Mac in the first place, Stevie told Rolling Stone , "She doesn't want to do it anymore. She doesn't want to fly. She doesn't want to come back to America. When she left, she left. She sold her house, her piano, her car. She went to England and she has never been back since 1998."

Copyright 2013 ABC News Radio