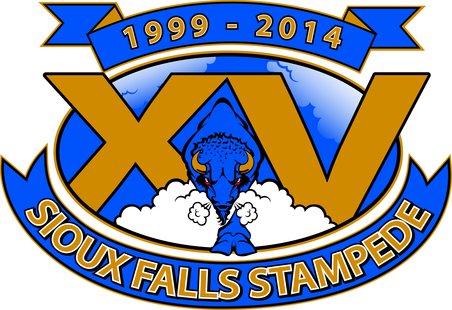 Sioux Falls, SD (KWSN)— The Sioux Falls Stampede today unveiled a special 15th anniversary logo that will be used throughout the 2013-14 season. The new design features the Stampede's primary logo in front of a gold and black Roman Numeral "XV" which stands for the Stampede's 15th season in the United States Hockey League. The logo will be seen on the ice, in various team promotional items and a patch will be worn on the front of the Stampede game jerseys.
The logo was designed and created by Brown & Saenger of Sioux Falls, a proud long time sponsor of Stampede hockey.
"This is an exciting year of Stampede hockey," said Stampede CEO/President Tom Garrity. "There have been so many exciting memories in the first 14 years of this franchise, including a regular season championship last season. Our ownership group is looking forward to celebrating the history and tradition of the Stampede with our fans this season while also preparing for what is sure to be an exciting next 15 years of Stampede hockey."
The 15th Anniversary season officially begins this Saturday, September 21st when the Stampede travel to Des Moines to face the Buccaneers at 7:05 PM. The Herd's home opener is set for Friday, October 4th against the Omaha Lancers at 7:05 PM at the Sioux Falls Arena. Tickets are on sale now through the Sioux Falls Arena box office or any Ticketmaster outlet.
The Stampede have compiled a record of 447-321-71 in their first 14 years of playing. In that time, the Stampede have captured the Anderson Cup for the best record in the regular season (2005-06) and a Clark Cup (2006-07) as the USHL playoff champion. Last season, the Stampede recorded 45 wins and captured the Western Conference regular season title while setting numerous franchise records, including most points in a season (92). The Stampede also set a USHL record for the largest point turnaround from one season to the next, improving by 51 points.
The Herd have been recognized as the USHL's Organization of the Year twice (2002 & 2006) and were chosen as the only sports franchise in the history of the South Dakota Chamber of Commerce to be nominated for the prestigious ABEX award (honoring business excellence).
On Monday, the Stampede will announce their promotional calendar for the upcoming season.
Season, group and suite tickets are now available by contacting the Stampede office at 605-336-6060 or visit www.sfstampede.com for more details. Follow the Stampede on Twitter and "like us" on Facebook @sfstampede.
Courtesy of Sioux Falls Stampede