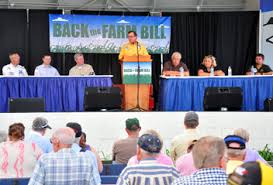 Washington, D.C. (KELO AM) – The U.S. House of Representatives passed H.R. 3102, the Nutrition Reform and Work Opportunity Act, by a vote of 217-210. Rep. Kristi Noem voted in favor of the legislation which provides comprehensive reforms to the food stamp program. The House previously passed the farm program portion of the Farm Bill. With the passage of the food stamp portion of the bill, the House and Senate can now begin reconciling the differences between their respective bills in conference.
"This bill puts integrity back into the food stamp program to ensure that those who need assistance the most receive it," said Rep. Noem. "These reforms return work incentives to the program while curbing fraud, waste and abuse and refocusing benefits on families most in need. We need to ensure we have good policies in place that people can get behind and support, and I believe this bill does that. I'm pleased that the Farm Bill is now one step closer to completion."
Some of the reforms in H.R. 3102 include:
• Preventing USDA and states from advertising or promoting SNAP;
• Cracking down on waste, fraud and abuse by ending SNAP benefits for lottery winners and traditional college students;
• Allowing states to conduct pilot projects that adopt TANF-type work requirements for able-bodied adults with children (with the exception of those individuals with a federally-qualified disability, individuals with sole responsibility for care of child under age one or under age six if no child care is available). States have the ability to sanction individuals who refuse to participate in 20 hours per week of work activities and will share in 50 percent of savings that result from moving people off SNAP;
• Giving states the option to conduct drug testing on SNAP applicants as a condition for receiving benefits (similar to reforms put into UI);
• Ending eligibility for SNAP for convicted violent rapists, pedophiles and murderers (for new beneficiaries); and
• Removing states' ability to obtain waivers for the work requirement for able-bodied adults without dependents (ABAWDs). ABAWDs are required to work 20 hours per week. The elimination of the waivers ensures that four million able-bodied adults without dependents are required to engage in work activities.
The House previously passed H.R. 2642, the Federal Agriculture Reform and Risk Management Act of 2013 (Farm Bill), in July.
Rep. Noem championed four main provisions in the House version of the Farm Bill, all of which were included in some form in the final version approved by the House. They include:
• Livestock Disaster Protection Act: Would extend the Livestock Indemnity Program (LIP), the Livestock Forage Program (LFP) and the Emergency Livestock Assistance Program (ELAP) authorized in the 2008 Farm Bill for the life of the Farm Bill, as well as retroactive coverage for fiscal years 2012 and 2013.
• Protect Our Prairies Act: Would encourage good land stewardship practices and preserve habitats for pheasants, ducks and other wildlife on native sod and on grasslands that haven't been farmed in the past, while estimated to save taxpayers nearly $200 million over 10 years.
• National Forest Emergency Response Act: Would streamline processes to get boots on the ground faster for pine beetle mitigation efforts. Calls for the federal government to grant categorical exclusions up to 10,000 acres.
• USDA Office of Tribal Relations: Would permanently establish an Office of Tribal Relations within the United States Department of Agriculture (USDA) to help improve communication between USDA and Tribal nations. This provision would not cost taxpayers any additional dollars and instead requires USDA to use existing resources to establish the office.