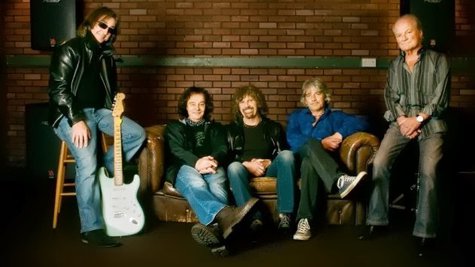 The Zombies ' first-ever official video can now be viewed online at VEVO.com . The clip accompanies the British Invasion band's song "Any Other Way," from their latest studio album, Breathe Out, Breathe In .
The stylish, black-and-white video follows the sad story of a doomed relationship between two young lovers, portrayed by actors Paul Sheehan and Lauren Toglia . The Zombies also are featured lip-synching the flamenco-flavored tune in the clip, which was shot in New York City at the small club The Cutting Room and on location on City Island.
Zombies frontman Colin Blunstone tells Rolling Stone that "Any Other Way" was inspired by some of the failed romances of his younger days.
"My heartless manager of the time used to encourage me to end relationships, as he knew it would result in a batch of new songs!" he explains.
The singer adds that the lyrics of the tune start "by recalling one 'breathtaking relationship' and then [end] referring to another completely different 'breathtaking relationship,' at a time long ago when the wine flowed freely and summers lasted forever."
The Zombies are near the end of a North American tour leg that wraps up this Saturday in Ames, Iowa.
Copyright 2013 ABC News Radio