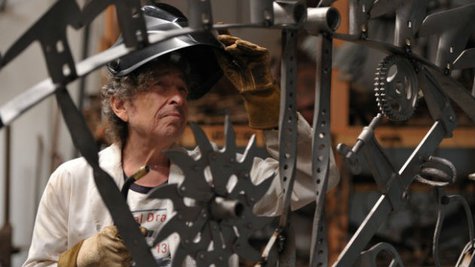 Bob Dylan 's paintings and drawings have been displayed at a number of exhibits around the world in recent years, but an upcoming showcase of his work will feature a whole new artistic direction for the influential singer/songwriter. Dylan's first-ever iron sculptures will part of an exhibition titled " Mood Swings " that will open at the Halcyon Gallery in London on November 16.
The exhibit will feature seven gates the folk-rock legend created at his studio by welding pieces of vintage iron, scrap metal and other found objects together. The gates will be displayed alongside new silkscreen art created by Dylan as well as limited-edition original prints.
In a statement, Dylan reveals he's had a long fascination with metalwork.
"I've been around iron all my life ever since I was a kid," he says. "I was born and raised in iron ore country -- where you could breathe it and smell it every day…And I've always worked with it in one form or another."
Regarding the form of the pieces he created, Dylan notes, "Gates appeal to me because of the negative space they allow. They can be closed but at the same time they allow the seasons and breezes to enter and flow. They can shut you out or shut you in. And in some ways there is no difference."
Halycon Gallery president Paul Green , meanwhile, praises the singer's new artwork, noting, "His iron works demonstrate his boundless creativity and talent. As these artworks are made at home, not on the road, they give us a rare glimpse into another part of the artist's own personal universe."
Dylan's "Mood Swings" exhibit will run through January 25, 2014. The display will open while Dylan is in the midst of an upcoming European tour , which kicks off October 10 in Oslo, Norway.
Copyright 2013 ABC News Radio