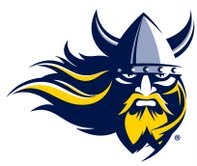 BRAINERD, Minn. (KWSN) – Augustana men's golf heads north this upcoming Monday for the first two rounds of the NSIC Championship. The tournament will take place at The Classic at Maddens Resort in Brainerd, Minn.
The Vikings get the luxury of having seen the course already once this season. Augustana played there for the NSIC Preview on Sept. 9-10. The Vikings shot a 59-over-par (635), tied for sixth place at the tournament.
Tyler Jensvold and John Grothe each finished tied for 16th at the NSIC Preview with a 13-over-par 157. The duo also finished tied for ninth this past week at the Jackrabbit Invite. Drew Trautman finished tied for 29th with a 16-over-par 160 at the NSIC Preview.
Clay Kopplin finished up the NSIC Preview by recording a 17-over-par 161 for his two rounds.
Matt Drake, playing unattached at the tournament, shot a 35-over-par 179 for the two-day event.
The two-day event starts on Monday, Sept. 30 and wraps up with a shotgun start Tuesday, Oct. 10. The final two rounds of play will take place in the spring.
Courtesy: Augustana College