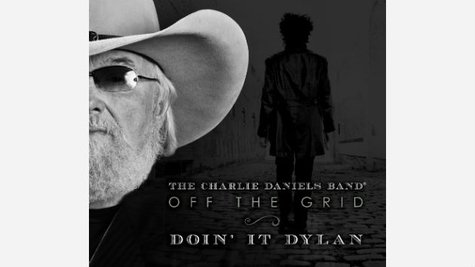 Charlie Daniels pays tribute to one of his musical heroes, Bob Dylan , on his band's first studio album in more than six years, Off the Grid -- Doin' It Dylan . The 10-track collection, which arrives in stores on Tuesday, April 1, features acoustic interpretations of a variety of tunes penned by the renowned singer/songwriter, including such classics as "Tangled Up in Blue," "Times They Are a Changin'," "Mr. Tambourine Man" and "Just Like a Woman."
Daniels owes a debt of gratitude to Dylan, who in 1969 helped boost the then-unknown musician's career when he hired Charlie to play guitar on his Nashville Skyline album. During the sessions, Daniels developed a rapport with Dylan, who called him back to contribute to his next two records -- 1970's Self Portrait and New Morning .
"It was a good time for me," says the country rocker, looking back on the experience. "I knew it was meaningful for my career because Bob was always nice enough to put names on the backs of the albums of the people that played. That was a big deal in those days…because he was THE guy. He was THE man. He still is from my point of view."
Regarding the influence Dylan's songwriting had on pop music, Daniels notes, "Bob Dylan proved that the people had an appetite for something that was cerebral rather than bubble gum. He wrote songs that made people think. If you listen to music before Dylan came on the scene and the music after Dylan, you will hear a vast difference. He really turned things around."
Daniels says he hopes his group's new album will turn on younger music listeners to Dylan's music, adding, "That would be a great thing because he deserves to be known by all generations."
Here is the complete track list for The Charlie Daniels Band's Off the Grid -- Doin' It Dylan :
"Tangled Up in Blue"
"Times They Are a Changin'"
"I'll Be Your Baby Tonight"
"Gotta Serve Somebody"
"I Shall Be Released"
"Country Pie"
"Mr. Tambourine Man"
"Hard Rain's a Gonna Fall"
"Just Like a Woman"
"Quinn the Eskimo (The Mighty Quinn)"
Copyright 2014 ABC News Radio