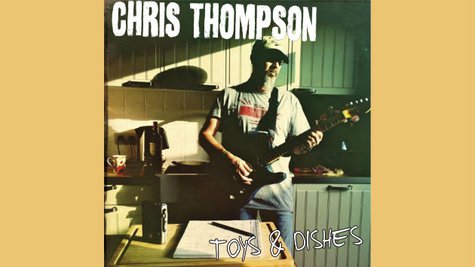 You may not be too familiar with the name Chris Thompson , but if you're a classic-rock fan, you undoubtedly know his voice. Thompson was the longtime singer for Manfred Mann's Earth Band and provided lead vocals for the group's biggest hit, the 1976 chart-topping cover of Bruce Springsteen 's "Blinded by the Light."
Now, the veteran musician is back with his first new solo album in more than a decade, Toys & Dishes . The 12-track collection is filled with melodic, rocking tunes reminiscent of the music that blasted out of the FM radio dial during Manfred Mann's 1970s heyday.
Thompson says of the new record, "I'm very proud of the result. The songs really mean a great deal to me, mostly inspired by my daily life, a couple of forays into the past and a story or two!"
He adds, "Hopefully they're accessible to both my very loyal fans and to everybody struggling to find time and money to do what they really want to with the people they love."
Toys & Dishes is available now as a digital download at iTunes and also can be purchased as an import CD in the U.S. You can sample four tracks from the album on the media player at Thompson's official website, ChrisThompson-Central.com . In addition, a video featuring clips of some of the tunes has been posted at Esoteric Recordings' official YouTube channel .
Thompson recorded and toured with Manfred Mann's Earth Band on and off from 1974 until 1999. He also has worked with a wide variety of other well-known artists over the years, including Tina Turner , Elton John , Roger Daltrey , Ozzy Ozbourne , Queen , Def Leppard and Toto .
Here's the track list for Toys & Dishes :
"Million Dollar Wonder Hit"
"Millie Christine"
"Eddie Wants to Rock"
"Dark Side Interlude"
"Dark Side"
"Hey You!"
"Dream Away Little Girl"
"You're the One I Love"
"Sad Song Wishes (One Moment)"
"Talk to Me"
"We Run"
"Woe Is Me"
Copyright 2014 ABC News Radio