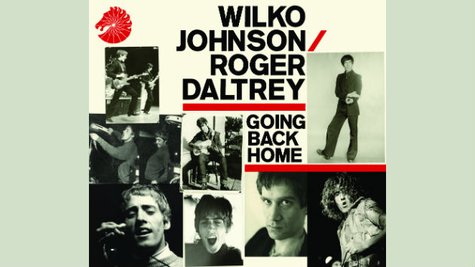 Less than a month after turning 70, Roger Daltrey has scored his highest-charting album ever in the U.K. outside of his work with The Who . Going Back Home , the legendary singer's new collaborative record with former Dr. Feelgood guitarist Wilko Johnson , debuted at #3, according to the U.K.'s Official Charts Company . The album is due out in the U.S. on April 8.
Previously, Roger's most successful non-Who album in his home country was his debut solo effort, Daltrey , which peaked at #6. The last time any album the singer released hit the top 3 in the U.K. was The Who's Face Dances album in 1981.
Going Back Home 's impressive debut also marks a milestone for Johnson, who hadn't put out a charting album in the U.K. since he left Dr. Feelgood in 1977. The only record the 66-year-old guitarist was associated with that ever bowed higher was his old band's 1976 album, Stupidity , which reached #1.
The success of Going Back Home is particularly poignant for Johnson, who -- with his backing band and Daltrey -- recorded the album over the course of eight days this past November, several months after he was diagnosed with terminal pancreatic cancer.
Speaking with ABC News Radio this past week about Going Back Home 's positive reception, Johnson said, "This whole experience has been great for me…Rather weird, a lot of it, because I was supposed to have been dead last October, and I'm not dead and the very first thing that I did after, with my extra time, was to make an album with Roger Daltrey. So, the whole thing was a bit surreal anyway."
The 11-track album is made up mostly of new renditions of songs Johnson has written for his various musical projects over the years. Wilko described his tunes as "straight-ahead rock 'n' roll," and he told ABC News Radio that he thinks Daltrey really appreciated getting the chance to sing that type of material.
"I think, really, there's a strong thing inside Roger that that's what he loves," Johnson explained. "And, like, the gigs that we've done, and doing the album, he's really been enjoying them, because it has just been that basic rock 'n' roll. There's no finesse or philosophy."
Wilko also marveled at how well Daltrey continues to sing at his age, as well as the shape he's in.
"I mean, incredible," he declared. "The guy looks so young, and he's got such a vitality about him, you know?...I think 70's some kind of mistake."
Meanwhile, in the face of his diagnosis, Johnson is planning to keep performing as long as he's able. He currently has concerts lined up with his solo band through a July 5 appearance at the Sonisphere Festvial in Stevenage, U.K.
Copyright 2014 ABC News Radio