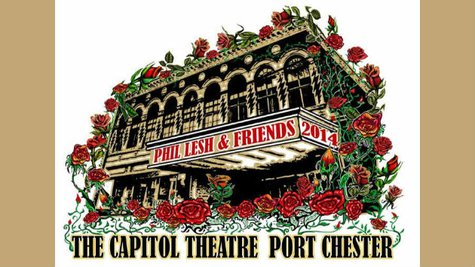 Founding Grateful Dead bassist Phil Lesh is set to begin a new residency at The Capitol Theatre in Port Chester, New York, on Wednesday night with his collaborative musical collective Phil Lesh & Friends . The veteran rocker has scheduled two four-night stands at the venue, the first running through Saturday and the second taking place April 9-12.
If you can't make it out to the shows, you can still watch all the action in the privacy of your own home, as all eight concerts will be webcast at Nugs.tv . Each concert will cost $14.99 for a standard-definition stream and $19.99 for high definition. Also available are multiple-show passes allowing viewers to watch each four-night run, the April 2-5 and April 9-12 events, as well as packages giving access to digital audio downloads of the concerts.
Phil Lesh & Friends will feature a different lineup for each four-show stand. At the April 2-5 concerts, Lesh will perform with John Kadlecik , Larry Campbell , Teresa Williams , Jeff Chimenti and Joe Russo , along with special guest Boyd Tinsley , Dave Matthews Band 's violin player. During the second run of concerts, Phil will be joined by Kadlecik, Russo, Marco Benevento and Jackie Greene , as well as special guest Bill Evans , who played saxophone with Miles Davis during the 1980s.
Lesh is no stranger to the Capitol Theatre: Phil Lesh & Friends have played several previous multiple-night stands at the venue since it reopened in 2012, while The Grateful Dead performed there frequently during its earlier incarnation.
Copyright 2014 ABC News Radio