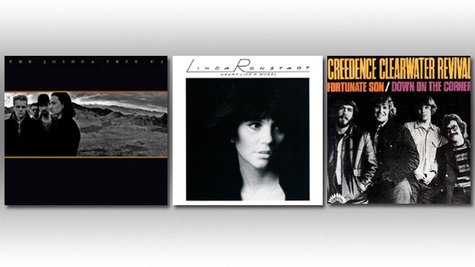 U2 's 1987 album The Joshua Tree , Creedence Clearwater Revival 's 1969 antiwar anthem "Fortunate Son," and Linda Ronstadt 's 1974 Heart Like a Wheel album are the newest additions to the Library of Congress' National Recording Registry.

The 1960 Everly Brothers hit "Cathy's Clown" and Isaac Hayes 's 1971 Theme From Shaft album have also been inducted.

Each year, the Library of Congress selects for the Registry a handful of songs and albums that have been judged to be "culturally, historically or aesthetically significant" recordings. A total of 25 recordings have been selected for induction in 2014.

Librarian of Congress James H. Billington says in a statement, "These recordings represent an important part of America's culture and history. As technology continually changes and formats become obsolete, we must ensure that our nation's aural legacy is protected. The National Recording Registry is at the core of this effort."

The list of inductees also includes the 1979 Sweeney Todd Original Broadway Cast Recording album; two versions of the 1932 Depression-era hit "Brother, Can You Spare a Dime?" by Bing Crosby and Rudy Vallee , and the 1966 Buck Owens ' album Carnegie Hall Concert with Buck Owens and His Buckaroos .
Also being inducted this year is the 1962 comedy album The First Family . The album featured impressionist Vaughn Meader and a small cast of voice over talent performing a series of comedy skits about President John F. Kennedy and his family. Meader's career came to a halt the following year when JFK was assassinated. All copies of the album were pulled from shelves after Kennedy's murder. It was re-released on CD in 1999.
Copyright 2014 ABC News Radio