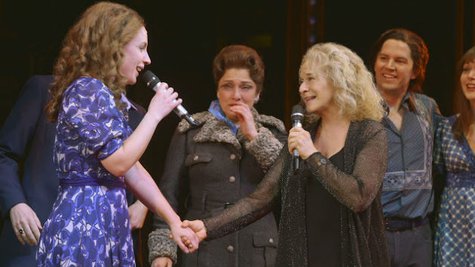 The cast of Beautiful , the Broadway musical based on the life of Carole King , got a big surprise on Thursday when the famed singer/songwriter made an unexpected appearance on stage during the show's curtain call. As the audience at New York City's Stephen Sondheim Theatre cheered wildly, King walked to the middle of the stage and gave a big hug to the musical's star, Jessie Mueller , then revealed that that evening marked the first time she'd attended a performance of the musical.
"I've been working up to coming. I haven't seen the show. This is my first night," she told the crowd, adding, "The word that I said backstage I'm not gonna say here, but it is effing awesome!"
The New York Times reports that at the time King made her appearance, the cast was making an appeal for donations to the Broadway Cares/Equity Fights AIDS charity. Carole told the theatergoers that if they pledged enough money to the cause, she would sing a song. Actor Jarrod Spector , who plays songwriter Barry Mann in the production, proceeded to lead an auction and got three audience members to each pledge $10,000.
King then proceeded to lead the cast and audience in a sing-along of her classic hit "You've Got a Friend," at one point duetting with a visibly emotional Mueller. An edited video of the event can be viewed at Beautiful 's official YouTube channel . The clip also includes footage of King chatting with Mueller and another cast member after the show.
The original Broadway cast recording of Beautiful: The Carole King Musical was released last month.
Copyright 2014 ABC News Radio