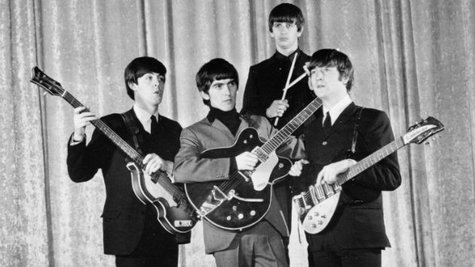 April 4 marks the 50th anniversary of one of The Beatles ' most impressive chart feats: the band became the only artist ever to simultaneously hold the top five spots on the Billboard Hot 100 singles tally. That week in 1964, "Can't Buy Me Love" catapulted from #27 to #1, displacing the Fab Four's "She Loves You," which dropped to third place on the chart, while "Twist and Shout" was at #2, "I Want to Hold Your Hand" held the #4 spot, and "Please Please Me" was at #5.
In the ensuing half-century, the closest any other artist has come to The Beatles' milestone was in March 1995, when rapper 50 Cent appeared on three of the Hot 100's top-five singles. His own "Candy Shop" topped the tally; The Game 's "How We Go," a song to which 50 Cent contributed, was at #4; and his "Disco Inferno" was at #5.
In addition in 1964, "Can't Buy Me Love" became The Beatles' third consecutive chart-topping hit, following "I Want to Hold Your Hand" and the aforementioned "She Loves You." In Billboard 's 55-year history, no other artist has ever scored three straight #1 singles.
Meanwhile, the 27-to-1 position jump by "Can't Buy Me Love" was the biggest one-week leap to the top of the Hot 100 up to that time. It was eclipsed in 2002 by pop star Kelly Clarkson , whose single "A Moment Like This" went from #52 to #1 in a single week. Clarkson went on to set the mark again in February 2009, when her hit "My Life Would Suck Without You" bounded from #97 to #1.
"Can't Buy Me Love" went on to hold the top spot of the Hot 100 for five weeks, and The Beatles have scored 17 more #1 hits since then. Their 20 total chart-topping singles remains a Billboard record.
Copyright 2014 ABC News Radio