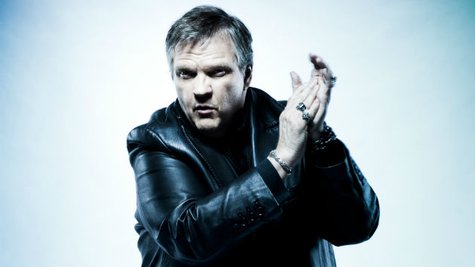 In addition to being famous as a rocker, most fans recall that Meat Loaf also co-starred in one of the biggest cult films ever: The Rocky Horror Picture Show . But if you found your first sight of Tim Curry as Dr. Frank-N-Furter in fishnets and drag a bit of a shock, Meat says he felt the same.

"When Tim Curry came in wearing fishnet stockings, I got up and left," he tells USA Today . "I wasn't expecting that at all."

The 66-year-old star, who played the doomed biker Eddie in Rocky Horror , takes on another role in the campy horror film, Stage Fright , out now on video on demand and in theaters May 9. The movie, which also stars Minnie Driver and Allie McDonald , centers on a theater camp terrorized by a crazed killer.
Meat Loaf also admitted that even after all these years in showbiz, he still gets stage fright.
"For almost 50 years, everything that I do on any given night has to be better than the night before, and if I think it isn't, I'm upset," he says. "Every day you must learn something new, and the minute you stop learning something new, you should just pack it up and go fishing."

Meat Loaf is currently in residence at Planet Hollywood Las Vegas Resort & Casino with his Rocktellz & Cocktails live show.
Copyright 2014 ABC News Radio