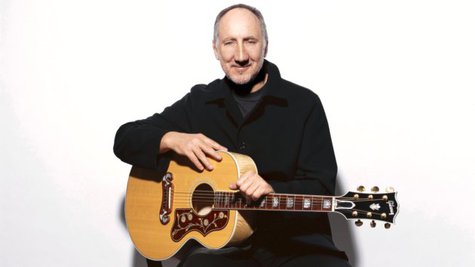 Three classic Who songs written by Pete Townshend have been used as the themes to CBS' trio of CSI crime-drama series, but now, for the first time, Townshend has helped create a song specifically for a TV show. Billboard reports that a tune titled "It Must Be Done" co-written and performed by the legendary rocker will be featured in the April 30 episode of the FX series The Americans .
Townshend collaborated on the tune with program's soundtrack composer, Nathan Barr . The song had been written for a scene featuring a car being followed by another vehicle, but the music didn't fit after segment was edited. The tune now will be part of a scene reportedly involving "sex and murder."
Townshend tells Billboard that he felt a connection with Barr because "Nate composes on the cello, an instrument my partner and orchestrator Rachel [ Fuller ] uses, so I have listened to a lot of cello music and I have really fallen in love with it."
He adds that he and Barr "exchanged ideas" between their respective homes in the U.K. and Los Angeles, "and I was immediately struck by this very evocative piece he had written, very plaintive. I added some guitar, then came up with some lyrics."
The Americans focuses on a pair of undercover Soviet spies posing as a married couple in the U.S. during the 1980s.
Townshend says of the concept behind "It Must Be Done," "I wanted to keep it very simple. Here's this couple whose whole life is about duty, duty without honor, duty without explanation. There are no accolades. They're not living a lie but doing things they find hard to do."
He adds, "Everybody has a part of their life that's difficult to explain. For me it's why the f**k am I in The Who?"
In other Townshend news, two renditions of his 1980 solo hit "Let My Love Open the Door" will be featured in the first episode of the Showtime series Californication 's seventh and final season, debuting on April 13. A remix of the tune by Los Angeles-based producer Philip Stier will be heard at the beginning of the program while the original version will close the episode. Both versions also will appear on a Californication soundtrack EP that will be released via Tunecore.
Copyright 2014 ABC News Radio