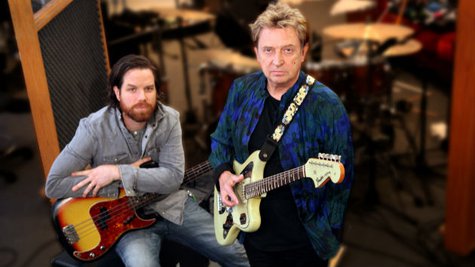 The first official video from Circa Zero , Police guitarist Andy Summers ' new band, premiered Friday on USAToday.com . The clip, which accompanies the song "Levitation," features stylistically shot, close-up footage of Summers, Circa Zero singer/bassist Rob Giles and session drummer Greg Grunberg playing in a studio.
The tune is a fairly straightforward rock song, with Summers' trademark angular riffing bringing to mind some of The Police's classic material. "Levitation" is the first single and lead track from Circa Zero's debut album, Circus Hero , which was released on March 25. A deluxe version of the album featuring a bonus DVD is available at Best Buy.
Giles, who began collaborating with Summers a while back after Andy saw him performing with his group The Rescues in Los Angeles, says he and the 71-year-old Rock and Roll Hall of Famer bonded over the desire to make an accessible album.
"My goal is always to make something I'd like to drive around and listen to," Giles explains to USA Today . "He had the same attitude -- 'Let's just make a rock record that we love.'"
Circa Zero currently had no confirmed tour dates on its schedule, but fans can expect that to change soon. A message on the band's Twitter feed reads, "Maybe we are playing in Los Angeles in May?"
Copyright 2014 ABC News Radio