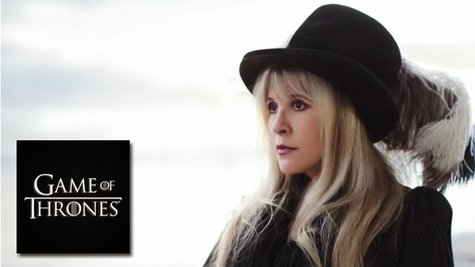 Celebrities: They're just like us! When they're not touring or releasing albums, they enjoy binge-watching TV shows, and are dying for their favorite programs to return. Take Stevie Nicks , for example. She's obsessed with Game of Thrones , which returns tonight on HBO. In fact, it inspires her to write -- not songs, but poems.
"Oh, I'm such a [fan], you know, I write poems about Game of Thrones all the time," Nicks tells ABC News Radio. "So, I mean, I'm writing it in poetry as it goes, and have been from the very first season."
The Fleetwood Mac singer first discovered the epic fantasy drama when she was bedridden with a serious illness. "I watched the first season in, like, a week," she explains. "I had pneumonia, so I just hunkered down in my den with the big screen and Game of Thrones and watched the whole thing and it took my mind off my pneumonia. And I was just taken away to another land."
She compares the experience to watching another show with an obsessive fan base: American Horror Story, which she's a fan of because it heavily features her music; she eventually guest starred on that series.
"I think that these shows that really do take you away from your own life really are precious," says Stevie. "Because we all need to escape from our own life for a little while."
Unfortunately, Nicks may have to set her DVR to watch Game of Thrones on Sunday night, because she'll be spending the evening in Las Vegas, performing on the Academy of Country Music Awards with her friends, country/pop group Lady Antebellum.
Copyright 2014 ABC News Radio