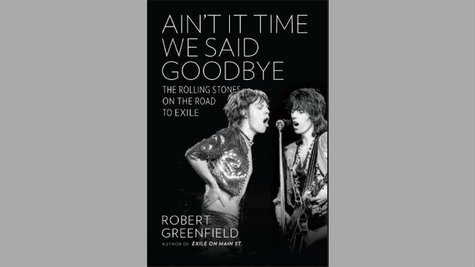 A new book offering an insider's look at The Rolling Stones ' 1971 "farewell" tour of the U.K. before the band went into tax exile is set to be published on May 13. Ain't It Time We Said Goodbye: The Rolling Stones on the Road to Exile is author Robert Greenfield 's firsthand account of what he witnessed as the only journalist who accompanied the legendary rockers during the trek.
Greenfield, who's a former associate editor of Rolling Stone magazine's London branch, got to witness the band at a volatile time in its history, a period where the once-close relationship between Mick Jagger and Keith Richards had begun to fray. The U.K. tour found The Stones traveling throughout the country by train and bus, while the group performed at relatively small venues. These shows featured some of the first performances of classic tunes that would appear on the soon-to-be-released Sticky Fingers album, including "Bitch," "Wild Horses" and "Brown Sugar."
Ain't It Time We Said Goodbye also features Greenfield's recollections of his interactions with the band after the British trek ended. This includes on the band's subsequent 1971 European tour, at recording sessions for the Exile in Main St. album in France, on the group's 1972 North American trek and during the recording of the Goats Head Soup LP in Jamaica.
The book also includes new interviews with a variety of Stones associates involved in the 1971 U.K. tour, and features eight pages of rare archival photographs.
Greenfield has written several other rock-music-themed books, including Exile on Main Street: A Season in Hell with The Rolling Stones , S.T.P.: A Journey Through America with The Rolling Stones and Bill Graham Presents: My Life Inside Rock and Out .
Copyright 2014 ABC News Radio