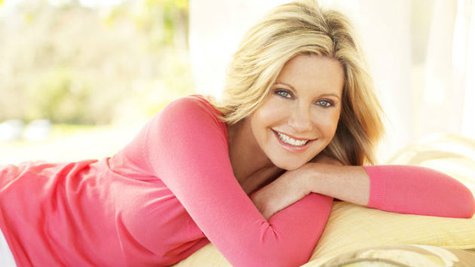 Olivia Newton-John is one of 10 female Australian singers who have lent their talents to a new version of The Divinyls ' 1990 hit "I Touch Myself" as part of a new breast-cancer awareness campaign. The I Touch Myself Project was organized in honor of Divinyls frontwoman Chrissy Amphlett , who died in 2013 at age 53 after a battle with breast cancer and multiple sclerosis.
The goal of the initiative is to refocus the original, more sexual meaning of the song on encouraging women to examine themselves for signs of cancer. Newton-John and the other participating singers have shot a video to accompany the new version of "I Touch Myself." The black-and-white clip shows the vocalists from the shoulders up, each apparently naked, as they sing a portion of the tune one at a time.
Olivia, who is a breast-cancer survivor, also shot a separate video in which she discusses her participation in the I Touch Myself Project.
"I was very moved to sing Chrissy Amphlett's song because I always loved the song when I heard it on the radio, and I thought she was really bold to sing the song," she says in the clip. "And now, of course, it's taken on a totally different meaning, and I love the whole reasoning behind doing this song. I'm really sad that she isn't here to sing it with us, and being a breast-cancer thriver myself, it has an extra meaning for me to do this for her."
Other singers also featured on the new rendition of "I Touch Myself" include Baby Animals frontwoman Suze DeMarchi and "Little Pattie" Amphlett , who's Chrissy's cousin.
The recording was put together in conjunction with Australia's Cancer Council NSW (New South Wales), and the track can be purchased as a digital download at various online music sellers. People who want to support the campaign are being asked to use the hashtag #ITouchMyselfProject and share messages and photos via Twitter, Instagram, Facebook and Google+.
Copyright 2014 ABC News Radio