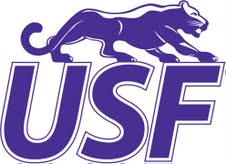 SIOUX FALLS, S.D. (KWSN): It wasn't a Good Friday for the Sioux Falls baseball team, as the Cougars (15-22, 9-15) dropped a pair of games to the University of Minnesota Duluth, 13-1 and 12-7, this afternoon at Harmodon Park.
The series was originally scheduled as a homestand for the Bulldogs, but heavy snow forced a site reversal and allowed USF to play its tenth straight game in Sioux Falls.
The Bulldogs (10-19, 6-13), who lost four of five games heading into the weekend series, reclaimed their mojo by dropping a combined 25 runs on 24 hits on the Cougars.
The Bulldogs jumped all over USF starter Noah Coleman in the initial frame of game one, tagging the senior southpaw for three runs on three hits and scoring one more on an error in the Cougar outfield to lead 4-0.
USF pushed across its lone tally in the third, when Austin Goodenow drew a one-out walk, stole second and was singled home by Noah Durkin. \
The initial onslaught continued in the home half of the third with the Bulldogs putting another four-spot on the board.
UMD tacked on two more runs in the fourth, chasing Coleman (1-4) after he allowed 10 runs (nine earned) on 10 hits in four innings, walking two and striking out a pair. Jeremy Varner relieved Coleman and gave up three runs on four hits, walking two and fanning a pair of Bulldogs.
Bo Hellquist (2-4) held the Cougars to one run on four hits in six strong innings, striking out five and issuing one base on balls.
The Cougars were paced by Durkin's 1-for-2, RBI effort. Trevor Crow, Anthony Lopez and Varner each had a hit.
With the margin for error thin in game two's 12-7 defeat, USF erred. Seven times, in fact—the most for a USF squad since the Cougars committed seven errors in a 15-13 win at Morningside College on April 2, 2011.
Freshman lefty Elijah Thornquist walked the lead-off batter and appeared to have cleaned the bases by inducing an infield ground ball, but shortstop Gunner Peterson was docked with a fielding error that would result in two runs for the Bulldogs via RBI double by Cody Aasen and a sacrifice fly.
UMD tacked on a run in the third before the Cougars answered with two runs in the fourth on the strength of RBI baseknocks from Durkin and Michael Vine. USF threatened for more with a bases-loaded at bat with two outs but Bulldog starter Max Ryan got out of the jam with Varner's fly-out to right field.
Thornquist sent the Bulldogs down 1-2-3 in the third and USF followed with a two-run fourth with Jordan Jeske plating Ryan Fobes with a long single before he stole home on a double-steal. Varner's fifth inning RBI double gave the Cougars a 5-3 advantage.
The Cougars' lead didn't last long, as Grant Farley's three-run homer erased the deficit for the Bulldogs in the bottom half of the fifth. UMD went on to score six more runs off a pair of Cougar relievers for a 12-5 lead that turned out to be more than enough for the win. USF created the final 12-7 margin with Crow's RBI hit and a solo shot by Varner in the top of the ninth.
Thornquist (L, 1-4) was charged with four earned runs on five hits over his 5 1/3 innings of work. He struck out three and walked four.
Ryan (W, 2-2) picked up the victory, tossing five in which he surrendered five runs on eight hits. Ryan Lakin recorded the final six outs of the game and allowed two runs on four hits.
USF pounded out 10 hits and were led by Varner (2-for-5, 2 RBI), Crow (2-for-5, RBI) and Noah Coleman (2-for-3, one run).
The Cougars and Bulldogs will square off again tomorrow at Harmodon Park with another twinbill scheduled to begin at 12 p.m.
Courtesy: University of Sioux Falls