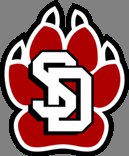 DENVER—South Dakota's women's tennis team advanced into the semifinals of the Summit League Tournament following a 4-0 win against IUPUI Friday on the campus of University of Denver. The Coyotes (12-12) take on top-seeded Denver (12-8) in a semifinal match at 11 a.m. (CDT) Saturday.
South Dakota earned the doubles point and quickly won three singles matches in straight sets to advance. Milica Pavlovic, Dragana Brankovic and Nina Barudzic captured singles points for the Coyotes. Rymma Maslova held a one-set lead in her match at No. 1 singles when the winning point was made.
The Coyotes flipped the script in doubles play against IUPUI one week after the Jaguars secured the point in a dual in Denver. Pavlovic and Michelle Elkin scored an 8-5 win against Rachael Bridegroom and Rachel Swartwood at No. 2 doubles. Brankovic and Yamini Reddy beat Bobbi Modesto and Vanessa Whyte 8-7 at the three position. IUPUI won both those matches 8-5 a week ago.
South Dakota dropped a 7-0 decision to Denver back on April 4 in Fort Wayne, Ind. The Pioneers were 6-0 in Summit League play this year, surrendering a single point to Fort Wayne in the process. The win will take on either Fort Wayne or South Dakota State in Sunday's final.