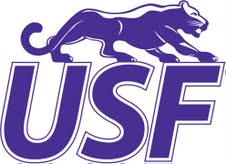 WINONA, MN (KWSN):Continuing its tough conference slate, USF baseball wrapped up a four-game series today in hopes of making a statement against a consensus NSIC tournament team.
However, the Cougar bats struggled against Winona State's solid pitching staff, which allowed just three combined runs in Saturday's double-header, as USF (17-28, 11-21 NSIC) was swept—falling 8-1 in game one and 6-2 in the nightcap on Saturday.
Winona State (20-19, 17-10) entered the weekend series with a 4.49 team ERA and a .290 opponents' batting average---not exactly a powerhouse of arms—so the Cougar offense had an idea of what was coming, but it simply did not have any answers. The team hit just .200 (12-for-60) on Saturday and struck out 13 times—nearly a quarter of its plate appearances—contributing to a 21.6 percent team strikeout rate.
Sophomore outfielder Noah Durkin went 3-for-7 to account for twenty-five percent of the Cougars' 12 combined hits this afternoon and is now hitting .367 on the season. Anthony Lopez finished 2-for-2 with an RBI.
Even improved outings by the Cougar pitching staff, which had a 1.29 ERA on Saturday, could not make up for the team's other miscues, as eight errors spoiled USF's best opportunity to salvage a win and led to the Warriors pushing some key runs across the plate.
Both of today's games were similar in that although the Cougar pitching was able to avoid the big letdown inning, the offense was simply unable to get much of anything going.
Junior righty Henry Ojeda (6-5) got the start in the opener as ace Derek Fischer was used last night in a relief role. He threw 57 pitches, allowing three runs—none earned—over four innings, and departed with a 3-1 deficit. Fischer tossed the final two frames and gave up five runs (one earned) on five hits with two walks and a strikeout.
WSU sophomore Lucas Crimmins twirled a complete game six-hitter to garner his first win on the mound this season. He surrendered one run and fanned four batters.
Lopez singled home Jeremy Varner in the top of the second to account for the Cougars' lone run. Trailing 1-0 in the third, Winona State scored three times and added five more runs in the fifth and sixth innings to put the game out of reach.
In game two, freshman Elijah Thornquist and a pair of Cougar relievers combined to allow just one earned run over eight innings of work, but a lack of offensive opportunities once again led to the Warriors cruising to a 6-2 win.
Three Cougar errors in the bottom of the second gifted WSU three runs and the Warriors put up a two-spot in the next frame to lead 5-0 with three innings in the books Senior Noah Coleman, who provided two of the Cougars' six hits in the game, cut WSU's lead to 5-2 in the eighth inning with a two-out RBI single that scored Michael Vine, who had reached on a fielding error by the Warrior shortstop. But Winona State quickly answered back with a run in the bottom half and never looked back.
The loss was charged to Thornquist (1-6), who lasted ive innings and only allowed one earned run on eight hits. The freshman lefty struck out four and issued one base on balls. Dylan Rock and Jordan Jeske combined to allow one run on two hits in three relief innings.
Hayden Krimmer picked up the victory (3-3), throwing 7 2/3 innings while striking out nine. The freshman gave up just six hits and two runs in his outing while Lucas Warren and Scott Freiburger combined for 1 1/3 innings of hitless relief.
USF is scheduled to play South Dakota State University on Wednesday afternoon. The non-conference (nine-inning) contest will begin at 4 p.m. at Sioux Falls Stadium.
Courtesy: University of Sioux Falls