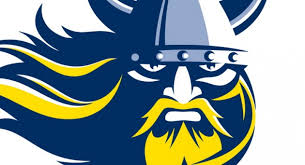 SIOUX FALLS, S.D. (KWSN)- Augustana senior Kyle Blakeslee's outstanding weekend at the Drake Relays earned her Northern Sun Intercollegiate women's track athlete of the week honors. Blakeslee helped the Vikings to a relay title then recorded an automatic qualifying time to finish her weekend at the Drake Relays.
A native of Cannon Falls, Minn., Blakeslee registered the third-fastest 3,000-meter steeplechase time in Division II and the first automatic qualifying mark for the Vikings this season. With a 10:23.84, Blakeslee finished fourth overall in the Drake Relay field and was the highest Division II finisher of all 22 runners.
One day earlier, Blakeslee ran the opening leg of the women's distance medley relay squad that won their second drake relays title in four years and broke the Augustana record. Blakeslee clocked a 3:35.15 in the 1,200-meter leg to open the race and her teammates that ran to an All-American finish during the indoor season, brought the Vikings the first of two Drake Relays titles. Blakeslee will be looking to finish her NSIC career undefeated in the 3,000-meter steeplechase.
The redshirt senior won the 2010, 2011, and 2012 titles before redshirting last season -- she also earned All-American honors in 2011 and 2012 with fourth-place finishes at the NCAA Championships.
Blakeslee took the NSIC indoor 3,000-meter run title and earned All-NSIC honors in the mile run as well.
This is the third time Blakeslee has been named NSIC women's track athlete of the week after earning the honors in back-to-back weeks on April 23, and May 1, 2012.
Courtesy: Augustana College