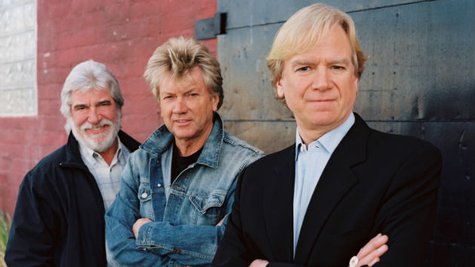 The Moody Blues have returned to North America for a late summer tour that gets under way tonight in Syracuse, New York. The outing includes a total of 26 shows, and will stop mostly in cities in the northeastern and midwestern U.S., winding down with a September 4-5 stand at the Ravinia Festival in Highland Park, Illinois.
Moody Blues frontman Justin Hayward tells ABC News Radio that one of the interesting things about this trek for him is that the band hasn't performed in North America too often in August. He notes that, because of the time of year, "we'll be doing a lot of outdoor gigs and I'm sure it'll be a lot of fun."
Hayward also reports that the Moodies will be visiting "[p]laces we haven't been for a while," adding, "I think we're all looking forward to it."
As for the band's set list, Hayward says he doesn't think it "will have changed much" from the one featured on the group's last visit to the U.S. He points out, though, that since the Moodies will be playing some places they haven't been to before, the show likely will be new to those fans.
At their concerts this past May, The Moody Blues included some lesser-known tunes like "Higher and Higher," "You and Me," "Peak Hour" and "Nervous," along with classic hits like "Nights in White Satin," "Tuesday Afternoon," "Question" and "Your Wildest Dreams."
Meanwhile, The Moody Blues haven't put out a new studio album since their 2003 holiday collection, December , and Hayward tells ABC News Radio that the band still has no concrete plans for another record.
"I never know what's gonna happen [with The Moodies]," he admits. Justin does reveal that the band has plans for a U.K. tour next year, adding that "there's talk of another DVD project, so that'll be good too."
If the band does decide to hit the studio again, Hayward suggests that there won't be a shortage of new songs. "There's always something in the diary, that's for sure," he maintains.
Here are all of The Moody Blues upcoming North American dates :
8/1 -- Syracuse, NY, Landmark Theater
8/2 -- Niagara Falls, NY, Seneca Events Center
8/4 -- Saratoga, NY, Saratoga Performing Arts Center
8/5 -- Bethlehem, PA, Musikfest
8/6 -- Uncasville, CT, Mohegan Sun Arena
8/8 -- Rama, ON, Canada, Casino Rama
8/9 -- Rama, ON, Canada, Casino Rama
8/11 -- Philadelphia, PA, Verizon Hall
8/12 -- Englewood, NJ, Bergen Performing Arts Center
8/14 -- Gilford, NH, Meadowbrook Music Arts Center
8/15 -- Hyannis, MA, Cape Cod Melody Tent
8/16 -- Hyannis, MA, Cape Cod Melody Tent
8/17 -- Danbury, CT, Ives Concert Park
8/20 -- Toledo, OH, Toledo Zoo Amphitheatre
8/21 -- Grand Rapids, MI, Frederik Meijer Gardens Amphitheater
8/22 -- Fort Wayne, IN, Embassy Theatre
8/23 -- Dells, WI, Crystal Grand Music Theatre
8/25 -- Lincoln, NE, Pinewood Bowl Theater
8/26 -- Minneapolis, MN, Northrup Auditorium
8/28 -- Springfield, IL, Sangamon Auditorium
8/29 -- Kettering, OH, Fraze Pavilion
8/30 -- Detroit, MI, Fox Theatre
9/2 -- LaCrosse, WI, La Crosse Center Arena
9/3 -- Appleton, WI, Fox Cities Performing Arts Center
9/4 -- Highland Park, IL, Ravinia
9/5 -- Highland Park, IL, Ravinia
Follow @ABCNewsRadio
Copyright 2014 ABC News Radio