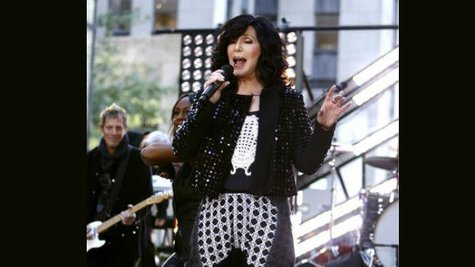 If Cher could turn back time, it would be two decades ago.
"Every once in a while I think, 'Jesus, you're so old! How did this happen?' I haven't looked in the mirror in years," she confessed in a new interview with AARP . "The only time I was happy with the way I looked was when I was, like, 40 to 45."
The now 68-year old singer took a break from her Dressed to Kill tour to talk about her endurance in entertainment and music. To wit: her 26th studio album, Closer to the Truth , was her highest charting album ever, entering the Billboard 200 at #3.
"I'm so the phoenix," she said.
The singer has no intentions of going quietly into retirement. There is a play about her life in development, and she may play herself in the lead role.
"I don't intend to step aside," she said. "This is the first generation that's said, 'We're not going to roll over and play dead because we're a certain age.' It's like saying to The Rolling Stones , 'OK, you've had your time in the sun. Now go put on some plaid shorts and play golf.'"
As for her infamous dating life, Cher is keeping things quiet, although she does still have a preference for younger men.
"Older men rarely liked me," she quipped. "If it wasn't for younger men, I would never have a date."
Follow @ABCNewsRadio
Copyright 2014 ABC News Radio