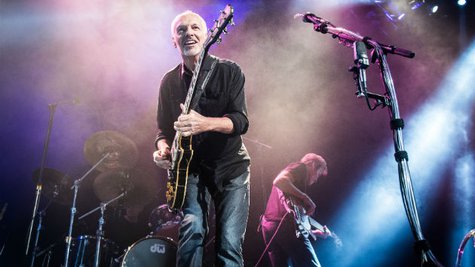 Peter Frampton 's expansive U.S. summer tour hit a little turbulence this past weekend during the guitar legend's performance at the Palladium in Carmel, Indiana. According to multiple reports, Frampton felt compelled to personally enforce a venue rule requesting that fans refrain from taking flash photographs and video during the show, when one concertgoer and his female friend repeatedly ignored pleas from the crowd and the rocker himself for them to stop.
According to an in-depth recap by a reporter from OnStage Magazine , the man and woman, who were positioned in the front row, were videotaping and taking flash pictures of Peter throughout the show, drawing the visible ire of Frampton. The reporter said the couple also were very loud and made rude comments to attendees who asked them to stop, with the man reportedly even making an obscene gesture directed at the guitarist when Frampton admonished him from the stage.
Finally, Peter had had enough. As the OnStage journalist explains, "[Frampton] walks over and with a huge smile on his face bends down and says, 'Hey can I see that? Can I see the photos you've been taking?' The guy hands him his phone and Peter stands up, spins, and flings for the rafters! Yes! The phone went flying to the back of the stage and we all erupted in cheers! With years of experience playing guitar, we just knew he had a great arm!"
Frampton addressed the incident on his Facebook page , posting a link to a fan's blog recapping the event, as well as to some Twitter comments from some people who attended the concert. Peter also wrote his own message that read, "Many thanks to the eyewitnesses who came forward to explain how annoying, 'Team Distraction' actually were. And not just to me but everyone around them."
Frampton's tour continues tonight with a show in Wisconsin Dells, Wisconsin.
Follow @ABCNewsRadio
Copyright 2014 ABC News Radio