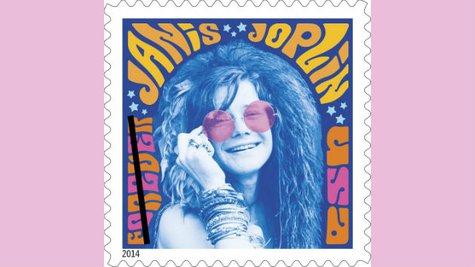 The U.S. Postal Service officially released the latest in its Music Icons Forever Stamp series, a stamp paying tribute to the late Janis Joplin , on Friday morning. A special ceremony celebrating the stamp's arrival will be held this afternoon at San Francisco's Golden Gate Park during the first day of the 2014 Outside Lands Festival.
Janis' brother, Michael Joplin , will attend the event, which also will feature performances by Mary Bridget Davies from the acclaimed Broadway musical A Night with Janis Joplin , country star Kacey Musgraves and local singer/songwriter Nicki Bluhm .
Michael Joplin said in a statement, "The recognition of [Janis'] legacy and persona on such a permanent and iconic symbol as a United States postage stamp is truly humbling and it fills us with joy and pride."
Janis' sister, Laura , who couldn't attend the stamp ceremony, added, "I am happy for Janis that her image stands strong, representing the power, artistry and independence of women…As a rock and roll icon of the turbulent 1960s era, Janis's inclusion helps remind us of the positive strength of an era devoted to peace, love and -- as Janis said -- 'Be True to Yourself.'"
The Joplin stamp resembles a psychedelic concert poster from the 1960s, and features well-known photo of the legendary blues-rock singer taken in 1970 by renowned photographer David Gahr . The image is tinted blue, while the granny glasses Joplin is wearing are pink. Running around the sides and top of the stamp are the words "Forever Janis Joplin USA" in shades of pink and orange, with three light-blue stars separating each word.
The design for the sheet of multiple Joplin stamps also offers some interesting elements. The pane resembles a 45-rpm record sleeve, with the image of the tip of a vinyl single peeking out above the stamps. The reverse side features a photo of Janis taken in May 1968 at the San Jose Pop Festival, the Music Icons Series logo and the words "Janis Joplin Blues, Rock, Country, Soul, Folk."
A brief bio of Joplin provided by the U.S. Postal Service praises her as "a groundbreaking singer whose powerful, bluesy voice propelled her to the pinnacle of rock stardom," while also noting that "she was known for her uninhibited and soulful performances," and that she was "a pioneer who paved the way for other women in rock music."
Janis was just 27 when she died from a heroin overdose in October 1970.
Follow @ABCNewsRadio
Copyright 2014 ABC News Radio