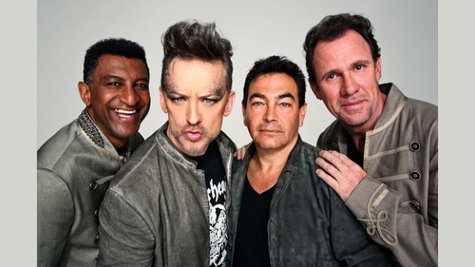 Earlier this year, Culture Club frontman Boy George said that he and the rest of the band would be regrouping for a new album and tour. Now, we know details about both those projects.
The tour, featuring George and all the other original Culture Club members -- Jon Moss, Roy Hay and Mikey Craig -- will kick off November 15 in Rancho Mirage, California. As of now, there are only six dates, wrapping up November 28 in Atlantic City, NJ. Tickets go on sale this Friday at CultureClub.co.uk . This is the band's first U.S. tour with the entire original lineup in 14 years.
Boy George will discuss the tour Thursday when he appears on NBC's Late Night with Seth Meyers, alongside Taylor Swift .
In addition, the band has been working on a brand-new album with acclaimed producer Youth , and the disc is set to arrive in early 2015. Asked in April what the new Culture Club material sounds like, Boy George told ABC News Radio that it's like their old stuff -- sort of.
"Y'know it's kind of eclectic," he said of the new songs. "I mean, Culture Club, although we were lumped in with all the other eighties bands, we didn't really have an eighties sound."
Laughing, he added, "We had, in a way, the same consumption of hair spray, but our music was quite eclectic. We weren't, like, an electro band, y'know, we kinda threw everything in there. So...the same as that, really."
But there are some differences, says the singer. "Obviously, [we're] trying to write songs that maybe will resonate with our audience now," he explained. "Really thinking about, 'OK, what do I wanna say to the people that are gonna come to the show? What do we want our message to be?' So that's been fun."
Culture Club hasn't released a new album of all-original material since 1999. George put out a solo album, This Is What I Do , in 2013.
Here are the tour dates:
11/15 -- Rancho Mirage, CA, Agua Caliente Casino Resort Spa
11/17 -- Oakland, CA, Fox Theater
11/19 -- Los Angeles, CA, Shrine Auditorium
11/22 -- Las Vegas, NV, The Pearl
11/25 -- New York, NY, Beacon Theatre
11/28 -- Atlantic City, NJ, Etess Arena
Follow --ABCNewsRadio
Copyright 2014 ABC News Radio