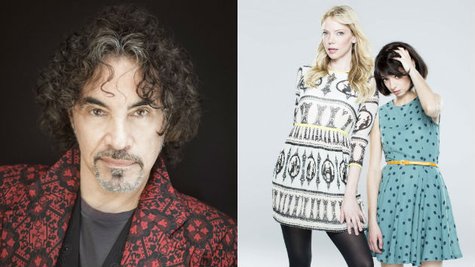 The new TV series starring female comedy music duo Garfunkel and Oates , aka Riki Lindhome and Kate Micucci , recently premiered on IFC. The comedians' stage name was inspired by the less celebrated members of two of the music world's most famous duos -- Art Garfunkel and John Oates -- and now one of those two musicians is set to appear on the comedy team's show.
John Oates will make his acting debut on an episode of Garfunkel and Oates that premieres this Thursday night at 10 p.m. ET. In the episode, called "Rule 34," the singer makes a cameo portraying a character named Dirty D, the owner of a porn shop. In the program, the ladies visit the store and find an X-rated video titled Garfinger and Butts that's based on their act and that they decide to buy.
John tells Entertainment Weekly that he found out about Garfunkel and Oates a few years ago, and he decided to contact them via Facebook and jokingly threaten to sue them. He says he subsequently became friends with the duo, and eventually asked them to open for him at one of his solo concerts.
"We did 'Maneater' together, and Riki did a mock striptease. Kate played the solo for 'Maneater' on the trombone," he recalls. "It was probably one of the craziest things I've ever done."
John adds that after Garfunkel and Oates put out their first CD, he told them that they should have their own television show. He adds, "And lo and behold they got one. When they called me up and said, 'Would you do a cameo?' I said of course."
The singer tells Entertainment Weekly that although he had fun filming his scene, he isn't motivated to seek out more acting work.
"I'm a terrible actor," he declares. "In fact, even when [ Daryl Hall and I] were doing the videos back in the early days of MTV, you know, I said, 'Man, I'm glad I'm a musician and not an actor.' I couldn't handle it."
He adds, "I'm not used to being someone else other than me. I play a pretty good John Oates, but other than that, I think I suck."
You can check out a clip of John's Garfunkel and Oates cameo on EW.com .
Follow @ABCNewsRadio Copyright 2014 ABC News Radio