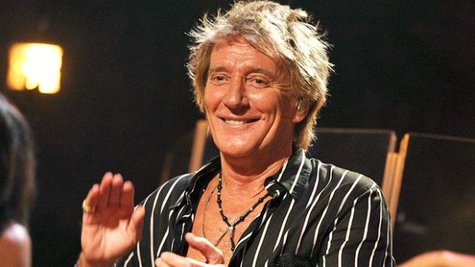 If you don't have tickets to see Rod Stewart on his current tour with Carlos Santana , you may not get that many more chances. The 69-year-old Rock and Roll Hall of Famer says he gives himself only three or four more years on the road...but he plans to enjoy every minute of it.
Speaking to the Kansas City Star , Rod says, "Touring is what I do. Nothing compares to it. Songwriting: You write a song, record it and put it out to the public, not knowing whether they'll accept it or not. I prefer getting on stage."
"It's an immediate satisfaction, sending an audience home happy," he adds. "I want to make the most of it. Nothing lasts forever. I still have the energy to do it, and I look forward to at least three or four more years of it."
On his current tour, Rod is doing just one song from his most recent album, Time, and devoting the rest of his set to his big hits, which he says he's still happy to sing after all these years.
"People ask me if I get tired of singing those songs. Never," he tells the paper. "I can't think of one song I'm tired of doing. [Even] 'Do Ya Think I'm Sexy': Every night it's so joyous...for a few years I didn't want to do it, there was so much criticism over it. Now it's a novelty song, and it really makes people smile."
Despite Rod's preference for touring over songwriting, he says he's already working on the follow-up to Time . "I've already written seven or eight songs for the next album," he reveals. "One of them is about putting my 3-year-old son to bed. There's loads to write about."
After Rod's tour with Santana wraps on August 24, he'll head to back to the Colosseum at Caesars Palace in Las Vegas for more dates in his ongoing residency there, from September through November.
Follow @ABCNewsRadio
Copyright 2014 ABC News Radio