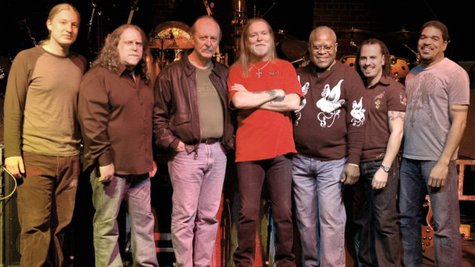 The Allman Brothers Band 's third annual Peach Music Festival gets under way today at Montage Mountain in Scranton, Pennsylvania. The group will serve as headliners for the four-day extravaganza's final two nights, Saturday and Sunday, and will be performing its entire classic 1973 album, Eat a Peach , at both events.
This could the Peach Music Festival's last year, since The Allmans Brothers recently announced that they'll be playing their final concerts this October at New York City's Beacon Theatre.
Meanwhile, George Clinton and Parliament Funkadelic will headline the festival's first night, while Phish frontman Trey Anastasio 's solo band has stepped in to take the place of Grateful Dead singer/guitarist Bob Weir and his group RatDog as the Friday night's headliner. Earlier this week, it was announced that Weir was cancelling all of his upcoming concert appearances, although no clear reason was given. In the wake of Weir pulling out of the Peach fest, a special Grateful Dead-themed set featuring RatDog's Jeff Chimenti and other respected musicians from the jam-band scene also has been added to Friday's lineup.
Other acts on the 2014 Peach Music Festival bill include Black Crowes guitarist Rich Robinson and a number of Allman Brothers Band spinoff groups. The latter category includes Gov't Mule with guitarist Warren Haynes , Tedeschi Trucks Band with guitarist Derek Trucks and Jaimoe's Jasssz Band with founding Allman Brothers drummer Jaimoe .
After the festival winds down, The Allman Brothers Band's other drummer, Butch Trucks , will head to New York's Catskill Mountains to host his second annual Roots Rock Revival event. The five-day music camp will take place August 18 to August 22 at Full Moon Resort in Big Indian, New York. Butch will be joined by a few other instructors, including Allman Brothers bassist Oteil Burbridge , Grammy-winning jazz saxophonist Bill Evans and The North Mississippi Allstars ' Luther and Cody Dickinson .
At the Roots Rock Revival camp, attendees can attend music classes, seminars and workshops, presentations, Q&A events, jam sessions and other performances.
Trucks tells ABC News Radio that last year's event "was a whole lot of fun," so he feels "very good about doing it again."
Butch reveals that there will be a few minor changes to the curriculum this year. He says he felt stretched a little thin during the 2013 event, so he and his fellow organizers have decided to "cut down on the number of lessons and [seminars] and spend a great deal more time just hanging with the people that come."
In addition, Trucks tells ABC News Radio that rather than he and his fellow instructors playing two full sets during the evening performance sessions, as they did last year, "we'll get up and just play a few songs and then get [the campers] to come sit in with us, 'cause…that's what they love."
Among the interesting events planned for this year's Roots Rock Revival will be a chat by the late Duane Allman 's daughter, Galadrielle , who wrote a recently published memoir about her dad, Please Be with Me -- A Song for My Father . Butch also will share his own recollections of and anecdotes about Duane during a special multimedia presentation. Visit RootsRockRevival.com to find out all the details about the 2014 camp.
Follow @ABCNewsRadio
Copyright 2014 ABC News Radio