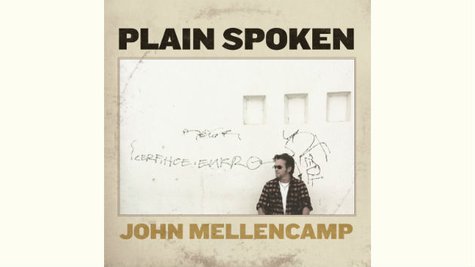 John Mellencamp has announced the complete details about his forthcoming studio album, Plain Spoken . The record will be released on September 23, and will include 10 new original tunes by the singer/songwriter.
Plain Spoken , the 62-year-old Rock and Roll Hall of Famer's 22nd full-length studio release, will be available on CD, vinyl and as a digital download. The lead track, "Troubled Man," will be available for purchase at iTunes starting this Tuesday, and will be sent to radio stations September 8.
The album, a follow-up to 2010's No Better Than This , marks the first new release as part of Mellencamp's historic lifetime recording contract with Republic Records. The heartland rocker is planning to support Plain Spoken with a fall tour of North America. His only confirmed upcoming performance is scheduled to take place at the 2014 Farm Aid festival on September 13 in Raleigh, North Carolina.
Here is the full track list of Plain Spoken :
"Troubled Man"
"Sometimes There's God"
"The Isolation of Mister"
"The Company of Cowards"
"Tears in Vain"
"The Brass Ring"
"Freedom of Speech"
"Blue Charlotte"
"The Courtesy of Kings"
"Lawless Times"
Follow @ABCNewsRadio
Copyright 2014 ABC News Radio