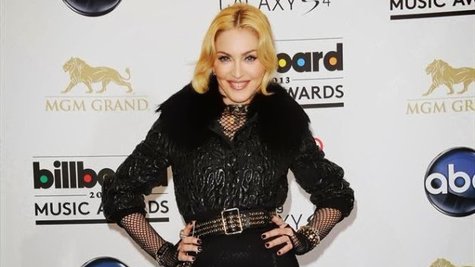 Over the years, Madonna 's relationship with her hometown of Bay City, Michigan, hasn't been the best, but the city is finally deciding to give the Queen of Pop some long-overdue recognition: a sign marking it as her birthplace.
According to MLive.com, this week, the Bay City Commission gave its support to a resolution to have the sign installed at the entrance to the town. This won't happen overnight, of course. The sign will be paid for with private funds, which have not yet been raised, and the Michigan Department of Transportation must sign off on the project.
Still, Commissioner Christopher Girard , who introduced the resolution, is bullish on the project. He said, "This is an opportunity to celebrate arguably one of the world's most successful recording artists of all time who was raised right here in Bay City. After learning about the deep family history and roots that Madonna has here, I think it's appropriate to honor and recognize her." Girard thinks that the sign could be up in two to three months.
Madonna's fraught relationship with Bay City stems from two incidents. The first is a 1987 NBC interview in which the singer called the city "a little smelly town in northern Michigan." She did explain that she called it "smelly" due to the chemical plants there, and added, "I have great affection for Bay City."
The second incident was a 1985 rumor that Madonna was offered the key to the city, but turned it down. A local historian tells MLive.com that the rumor isn't true, and what actually happened is that the mayor of Bay City at the time revoked the offer because of the news that Playboy and Penthouse were planning to publish nude, pre-stardom photos of the singer.
Copyright 2014 ABC News Radio